The outskirts of Bangalore within 100km from the city have some unique tourist places where visitors can spend quality time for a day. One-day trips from Bangalore to delightful destinations do not cost much when planned well. Escaping the city's heavy traffic can be a challenge. But to avoid getting stuck in traffic, travellers can plan to leave the city early in the morning and return by dusk.
A well-planned and ambitious day trip is an adventure unto itself. Bangalore's traffic can be daunting if stuck in traffic in the mornings. So, it's prudent to start early for making the day eventful and fun filled. Packing up homemade food is the best way to enjoy a delectable lunch. While it is also wise to have the right travel gear apt for the hotspots one intends to discover.
A backpack with essential supplies and proper footwear is a good way to prepare for any challenges on the way. Fancying a long drive is recommended if travellers wish to discover more than two places to visit from Bangalore. These tourist locations are  ideal for all one day outings near Bangalore.
Tourist Wonders near Bangalore waiting to be discovered
Escaping Bangalore's convoluted roads in the morning and getting a breath of fresh air is a head start for a fantastic Bangalore day out. Here are some recommended tourist places near Bangalore worth discovering.
01. Bangalore Within 100km – Skandagiri
Skandagiri, also known as Kalavara Durga is a hill town just 70 km from Bangalore in the Chikkaballapur district. It is at an elevation of 1450 meters and very to the Nandi Hills. Skandagiri is a hangout for trekkers and adventure lovers. A night trek and camping for the night beside a bonfire on the hilltop is a favorite activity among thrill addicts. The other attractions are the Papagni Mutt, the Tipu Sultan Fort, and the Grover Zampa vineyards.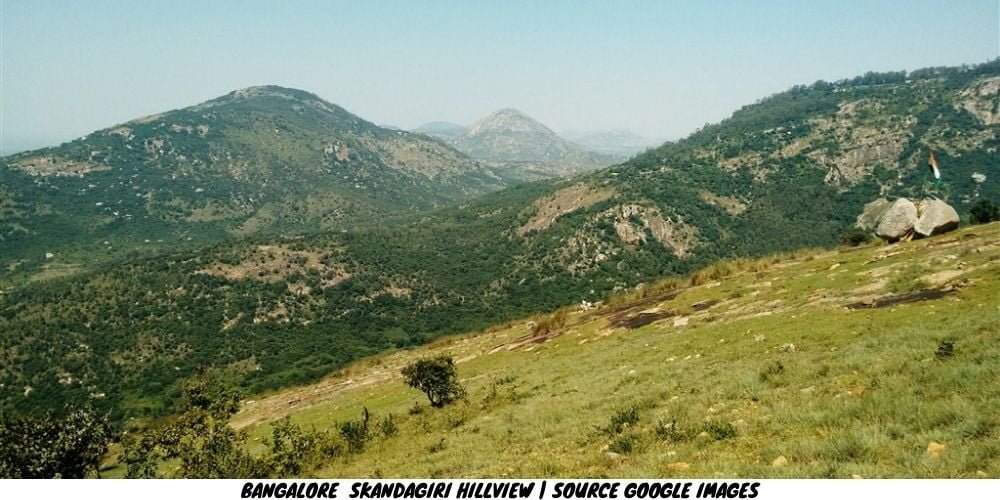 Skandagiri is one of the best tourist places to visit near Bangalore that can be done on a shoestring budget. The natural landscape on the top of the hill is pleasant and breezy. The best time to plan a trip is from November to March. The 10 km trek is only for the physically and mentally fit and must be attempted, with adequate planning. Tourists should carry sufficient water, comfortable clothes, and shoes to make the ascent easy.  Surprisingly, parking facilities are available at the foot of the hill that cost about Rs 50 only.
02. Bangalore Within 100km – Savanadurga
Savanadurga is situated 60 km west of Bangalore. It is one of the big single rock formations in Asia, one of the best places to visit near Bangalore. Billiguddi's (white hill) and Karigudda (black hill) are weekend traveler's frequent hangouts. Trekking, camping, and rock climbing are some of the activities organized frequently here. The Billiguddi's gentle slopes are preferred by trekkers to climb the  Savanadurga hills.
Magnificent birds like the yellow-throated bulbul and wild animals like leopards and sloth bears are spotted here. These hills are very close to the Arkavathy River that flow towards the Manchanabele Dam.  Tourists can also enjoy a delightful boat ride at the lake besides the foothills of Savanadurga. It is advisable to start the descent from the hilltop before it gets dark.
03. Bangalore Within 100km – Jakkur Airbase
The Jakkur Airbase in Yelahanka is home to the Bangalore Micro light flying tour. A 10-minute aerial ride offers a stunning view of the entire city of Bangalore. Jakkur's airfield is a 214 acre dedicated aviation area and a picnic spot near Bangalore.
The Jakkur flying club at Jakkur organizes these fly-bys at over 4000 feet from the ground at scheduled times only. Things to carry include a valid ID proof like an Aadhar card, PAN card, or a driving license. The club is open all day from 6:30 am to 3:00 pm. Besides, the cost of an aerial drive costs as low as Rs 4000 per person.
04. Kolar Antaragange
Antaragange is a famous rocky mountain hill range in the Kolar district of Karnataka. It is ideal for a one day trip from Bangalore. Filled with challenging mountains and large boulders, Antaragange is a favourite trekking hangout for adventure lovers. The Antaragange caves are 3-4 km from the Antaragange temple. A steep and narrow path takes tourists to the mountain top that leads visitors to a village on the mountain called Thera Halli.
Antaragange has more to offer visitors apart from trekking. Visiting the Kashi Vishweshwara temple and discovering a natural pond that is fed by a continuous stream of water is recommended. It's believed that these waters are fit for drinking and are said to have divine healing powers. Tourists can visit the Vishweshwara temple after a challenging trek at the Antaragange range.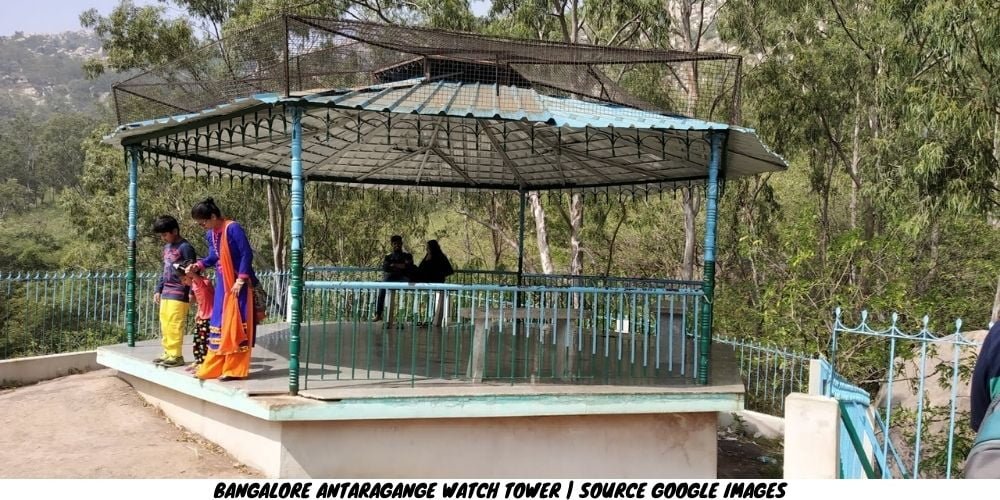 05. Ramanagara Vineyards
Ramanagara, around 60 km from Bangalore, enjoys a warm and temperate climate. An area surrounded by dense forests & abundant water from the Cauvery River. These conditions have spawned a new breed of entrepreneurs who have taken to growing grapes and winemaking in a big way.  It is also a good place for a one day outing near Bangalore.
A day tour to the sweet-smelling vineyards in Ramanagara lets visitors enjoy an Italian-type wine tour near Bangalore. Heritage Winery in Ramanagara is the most famous in the region. Besides, being a modern facility that has perfected grape cultivation and winemaking into an art form.
Kindly read more about Bangalore's top tourist attractions here 
Visitors are allowed to take a stroll at the vineyard and let into the factory to view the process of winemaking first hand. Tourists can get a sneak peek at the crushing, fermenting, and bottling of wine also.
Sampling some of the finest wines with a loved one here can be a romantic experience.  The winery is open from 10:30 am to 4:00 pm. with, the entrance fee starting from Rs 300 per person.
06. Bangalore Within 100km – Chikka Tirupati
A yearly pilgrimage to the Tirumala Tirupati Devasthanam is an essential rite undertaken by Hindus for generations. The devotion to Vishnu has a long recorded history of immense obeisance, dedication, and obedience. The Chikka Tirupati temple in the Malur district of Karnataka is a pilgrimage undertaken by devotees from Bangalore and adjoining areas who are unable to make a yearly visit to Tirupati.
The Chikka Tirupati temple performs the same set of rituals carried out at the Tirumala Tirupati temple. Devotees throng in the hundreds every day to offer prayers and thanksgiving for the fulfillment of their wishes. Devotees get to experience an abundance vibrant positive energy at the Chikka Tirupati temple. Some of the other religious activities pilgrims can perform include:
Offer prayer and thanksgiving to Lord Venkateswara at the temple. Marvel at the spectacular temple architecture.
Devotees can offer "Mudi Kanike" or hair tonsure to their deity, especially for little children.
Spend time attending to special Seva and pooja offered to the presiding deity throughout the day.
The temple is open throughout the year from 6:00 am to 7:00 pm, but devotees usually throng to the temple in the morning and evening hours.  A Santhe (Village Fair) very close to the temple lets devotes purchase fresh vegetables, fruits, and other essentials.
07. Bangalore Within 100km Makalidurga
Makalidurga is a hill station 60 km from Bangalore and very close to the Makalidurga railway station. There are two ways to reach the hill summit. One is by walking directly from the railway station, and the other is to start from the Muthuraya Swamy temple close to a parking lot for vehicles.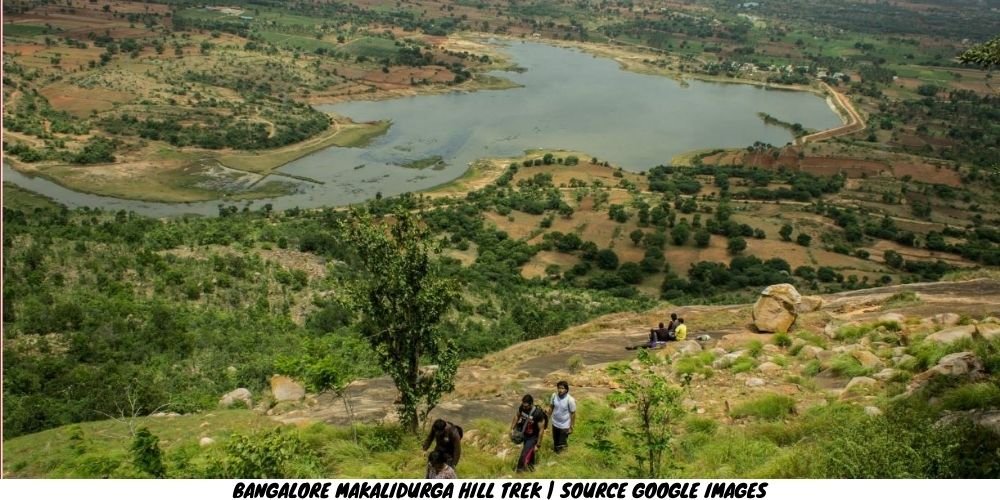 Legend has it that that Markandeya Rishi performed penance here. The scenic view of Gundamagere Lake is the key attraction while climbing up the hill. Besides, a temple dedicated to Makali Malleshwara at the summit is worth a visit. Makalidurga is one of the undiscovered tourist places near Bangalore that can be visited all year round.
08. Bangalore Within 100km – Big Banyan Tree
The Big Banyan Tree is also called "Dodda Alada Mara" in Kannada. Alada Mara is 400 years old, enormous, and spread over three acres with a circumference of 250 meters. This natural wonder has gained religious significance and symbolizes the Holy Trinity of the Hindu Gods. The root, stem, and branches represent Brahma, Vishnu, and Shiva.
Dodda Alada Mara is under the protection of the state's horticultural department after a large part of the tree was infected by insects in the early 2000s. Surprisingly, this has not stopped the tree from growing in size and foliage. Rare birds like Drongo, Hoopoe, and Pirnia can be sighted here. The other attractions nearby are the Muneshwara temple inside the tree complex and the Manchanabele reservoir just 10 km from here.
Tourists will be amazed at the enormous size of the tree. Moreover, adequate pathways and seats are available to attract many tourists. The pleasant atmosphere and picturesque locales make it one of the must-visit tourist places from Bangalore.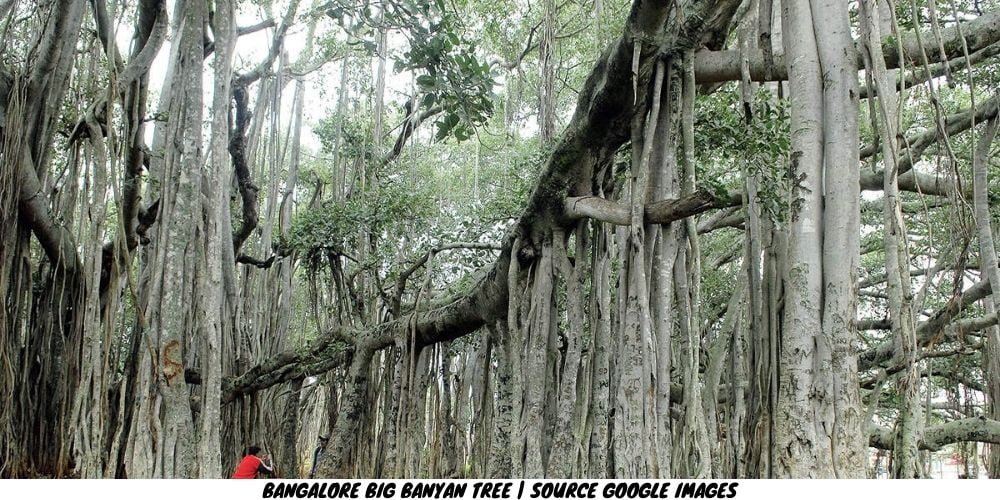 09. Bangalore Within 100km – Hesaraghatta Lake
The vast Hesaraghatta lake supplies fresh water to the city of Bangalore. It's spread over 1000 acres and attracts a flock of migratory birds. Some of the commonly sighted birds include the Flower Pecker, Brahminy Kite, Pond Heron, and the Kingfisher.
Tourists love the 10 km long stretch of cycling trails starting from Nrityagram to the Hesaraghatta lake. Tourists can avail themselves of paddling and motorboats for a boat ride on the lake. Hesaraghatta lake is about 30 km from the city. It is one of the best tourist places close to Bangalore for a peaceful day trip.
If you are interested to know more about Bangalore International Airport please click the link here.
10. Bangalore Within 100km – Innovative Film City
Innovative Film City is an amusement park located in Bidadi just 40 km from Bangalore city. It's a distinct theme park replete with a myriad of exciting activities for all age groups. The park is a one-stop destination to spend quality time with family or to have fun with friends.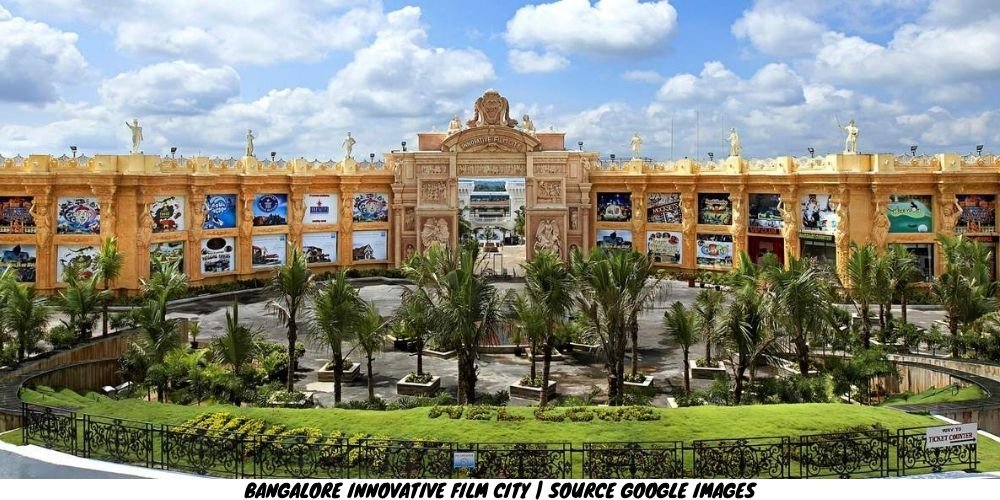 The many attractions that draw tourists include the Aqua Kingdom, Dino Park, Haunted Mansion, Cartoon City, Mirror Maze, Innovative Talkies and the Aqua kingdom. Besides, the theme park is a favourite destination for organizing weddings, corporate events, and meetings.
Some of the other exhibits to try our are a 3D photo gallery, 4D shows and a selfie gallery. The entry fee to the Innovative Film City is Rs 600 per person for standard attractions and is open from 10:00 am to 7:00 pm on all days.
Shathayu – Ayurveda Yoga Retreat, Bengaluru
Bangalore has earned a reputation of becoming a hub of innovation in healthcare, biotech and software services. One beneficiary is the booming demand for medical tourism. The city enjoys a salubrious climate with lush greenery, parks and streets lined with trees.
Tourist to Bangalore can also take advantage of the many health care establishments dotting the metropolis. Super-specialty clinics, ayurvedic & naturopathy medical facilities offer travellers effective health care solutions at affordable prices. The Shathayu Ayurvedic Retreat Centre is just 20 km from the Bengaluru International Airport.
It is one such premier healthcare resort located away from the hustle and bustle of the Bangalore Metropolis. Shathayu Retreat provides holistic wellness services that take care of the mental, physical, spiritual, social, and lifestyle aspects of customers staying at the centre.  Our wellness program is designed with over 120 years of ayurvedic practice passed down through five generations. Tourists can learn more about Shathayu Ayurveda from our website in the link here
The Ayurvedic retreat centre is surrounded by hillocks on three sides with a perennial lake on the other offering side, offering a perfect ambience to recharge, recuperate and reenergize.  We customize our wellness programs to suit the specific needs of the customer.  Shathayu specializes in weight management, pain management and de-addiction.

Bengaluru's neighbourhood hold hidden gems waiting to be discovered
These tourist places near Bangalore within 100 km from the city offer some of the most exciting places to visit. Its a carefully selected list of tourist places apt for a day outing with family from Bangalore.
A visit to hill stations like Skandagiri & Savanadurga, wine tour to Ramanagara, a fun filled day at amusement parks or a serene place like the Big Banyan Tree. Everything can be done when planned properly. These get togethers help to build strong bonds among with family and friends.
Getting close friends to join an adventure-filled holiday usually make for any holiday delightful. Adventure seekers will love to camp overnight at Skandagiri or trek up to the Savanadurga hills. While little children can enjoy a fun-filled holiday at the Wonderla Theme park. Tourist to Bangalore can return to their home town with fond memories of excitement, fun and enjoyment.
The post Top Places to Explore in Bangalore Within 100km appeared first on Shathayu Ayurveda Yoga Retreat.